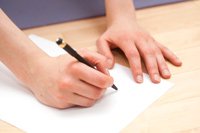 This class is designed to teach students how to plan and write well-developed and cohesive paragraphs. It will focus on developing content through journaling and editing in class. The class will also teach methods for organizing your ideas, connecting ideas and experiences in a clear and interesting manner, and using supporting details to address a topic. Grammar, style, and punctuation will be discussed. Paragraphs will be reviewed in class and revised. Student assessment will be based on understanding the concepts in the book and improvement in writing.
Required textbook can be purchased in the Adult School office.
SECTION A
Duration:
10 wks
Date range:
January 19 to March 23
Day(s) of the week:
Friday
Hour:
9:30 a.m.–12 Noon
Address:
Greendell Rm P6
Price:
No fee *
Register Now
SECTION B
Duration:
10 wks
Date range:
January 18 to March 22
Day(s) of the week:
Thursday
Hour:
6:30–9 p.m.
Address:
Palo Alto HS Rm 216
Price:
No Fee *
Register Now
Telephone: (650) 329-3752 – 50 Embarcadero Road – Palo Alto, CA 94301
Copyright © 2009-2018 Palo Alto Adult School. All rights reserved.