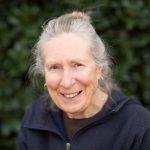 Duration:
One Session
Date range:
February 13
Date(s) of the week:
Tuesday
Hour:
6:30–9:00 p.m.
Quarter:
Winter 2018
Prerequisite:
None
Address:
Palo Alto HS Rm 103
Price:
$60
Register Now
As in Greece, with a climate similar to California, this bread can be made using local grains milled at home into 100% whole grain flour, and leavened with a simple sourdough. The whole process will be demonstrated; details will be given on how to make or source the ingredients.
Soft white wheat and durum wheat and barley are grains that grow well in the Mediterranean climate of California and Greece. The chosen barley can be light colored and both wheat types have a pale colored bran so that the 100% whole grain breads are light in color, light and finely textured and gently flavored. Adding a little olive oil and using a simple sourdough starter brings out the best bread from these grains. All ingredients provided.
Telephone: (650) 329-3752 – 50 Embarcadero Road – Palo Alto, CA 94301
Copyright © 2009-2017 Palo Alto Adult School. All rights reserved.