ITALIAN THROUGH CONTEMPORARY FILM (**NEW**) Join our Email list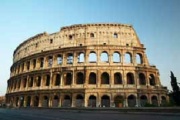 Duration:
6 wks
Date range:
September 18 to October 30
(
No class:
October 9.)
Date(s) of the week:
Monday
Hour:
6:30–8:30 p.m.
Quarter:
Fall 2017
Prerequisite:
Intermediate high-advanced; comfortable command of understanding and speaking
Textbook:
No textbook required.
Address:
Palo Alto HS Rm 308
Price:
$96
Register Now
A new way to challenge yourself, improve your Italian comprehension, and learn more about Italian society. You will acquire, strengthen, and consolidate your competence in Italian on several levels: linguistic, sociolinguistic, cultural, and intercultural. Watching short clips and analyzing relevant points, idiomatic uses, and regional accents, your attention will be captured by various aspects of spoken language and content. Clips – sequenze – are carefully selected from contemporary award-winning Italian films. Readings, pre and post activities (including grammar and vocabulary), and small group discussions will require a fun interactive participation.
No textbook required.
Telephone: (650) 329-3752 – 50 Embarcadero Road – Palo Alto, CA 94301
Copyright © 2009-2017 Palo Alto Adult School. All rights reserved.