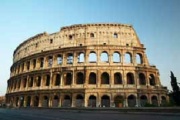 Duration:
One Session
Date range:
May 31
Date(s) of the week:
Thursday
Hour:
6–9 p.m.
Quarter:
Spring 2018
Prerequisite:
Advanced Italian skills, comfortable command of understanding and speaking
Textbook:
No textbook required
Address:
Palo Alto HS Rm 308
Price:
$32
Register Now
A new way to challenge yourself, improve your Italian comprehension, and learn more about Italian society. You will acquire, strengthen, and consolidate your competence in Italian on several levels: linguistic, sociolinguistic, cultural, and intercultural. Watching short clips and analyzing relevant points, idiomatic uses, and regional accents, your attention will be captured by various aspects of spoken language and content.
Please contact the instructor for more information about the selected film.
Telephone: (650) 329-3752 – 50 Embarcadero Road – Palo Alto, CA 94301
Copyright © 2009-2018 Palo Alto Adult School. All rights reserved.