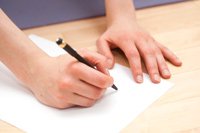 **New students must take a required in-person English test for all Fundamentals of Writing classes.**
Thursday, March 31, 2022 / 6 p.m. / Palo Alto High School, Rm 218
Friday, April 1, 2022 / 12 noon / Greendell Campus, Rm P3
For more information, please call (650) 494-2326.
This class is designed to teach students how to plan and write well-developed and cohesive paragraphs. It will focus on developing content through journaling and editing in class. The class will also teach methods for choosing and organizing your ideas and experiences in a clear and interesting manner, how to connect ideas, and how to use supporting details to address a topic. Grammar, style, and punctuation will be discussed. Paragraphs will be reviewed in class and revised. Student assessment will be based on understanding the concepts in the book and improvement in writing.
Required textbook can be purchased in the Adult School office.
SECTION A
Duration: 10 wks
Date range: March 25 to June 3
(No class: April 8.)
Day(s) of the week: Friday
Hour: 9:30 a.m.–12 noon
Address: Greendell Rm P6
Price: No Fee *

SECTION B
Duration: 10 wks
Date range: March 24 to June 2
(No class: April 7.)
Day(s) of the week: Thursday
Hour: 6:30–9 p.m.
Address: Palo Alto HS Rm 203
Price: No Fee *

Telephone: (650) 329-3752 – 50 Embarcadero Road – Palo Alto, CA 94301
Copyright © 2009-2022 Palo Alto Adult School. All rights reserved.