FUNDAMENTALS OF WRITING I—INTRODUCTION TO PARAGRAPHS * Join our Email list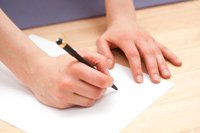 **New students must take a required in-person English test for all Fundamentals of Writing classes.**
The teacher will schedule the test with students.
For more information, please call (650) 494-2326.
Practice writing sentences and developing coherent paragraphs with the goal of writing about your own life experiences.
Guidance will also be given on correct grammar and word choice.
Required textbook can be purchased in the Adult School office.
SECTION A
Duration:
9 wks
Date range:
January 20 to March 17
Day(s) of the week:
Friday
Hour:
9:30 a.m.–12 noon
Address:
Cubberley Campus I-Building 2nd Floor
Price:
No Fee *
No Longer Available
SECTION B
Duration:
19 wks
Date range:
January 19 to March 16
Day(s) of the week:
Thursday
Hour:
7–9 p.m.
Address:
Palo Alto HS Rm 220
Price:
No Fee *
Register Now
Telephone: (650) 329-3752 – 50 Embarcadero Road – Palo Alto, CA 94301
Copyright © 2009-2023 Palo Alto Adult School. All rights reserved.