ITALIAN: ADVANCED GRAMMAR (2nd Quarter) Join our Email list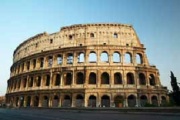 Duration:
9 wks
Date range:
January 17 to March 21
(
No class:
February 21.)
Date(s) of the week:
Thursday
Hour:
6–7:30 p.m.
Quarter:
Winter 2019
Prerequisite:
High Intermediate (knowledge of present, past, future, prepositions, adjectives and pronouns, present and past conditional, comparatives and superlatives, relative pronouns, subjunctive and high intermediate vocabulary)
Address:
Palo Alto HS Rm 308
Price:
$108
Register Now
Un'esperienza tutta italiana!
Students will acquire new linguistic and grammatical elements, and will master and refine their abilities of describing, narrating and discussing. Class is conducted completely in Italian and students will be asked to complete weekly assignments at home and actively participate in class.
Textbook: Please contact the instructor for more information.
Telephone: (650) 329-3752 – 50 Embarcadero Road – Palo Alto, CA 94301
Copyright © 2009-2019 Palo Alto Adult School. All rights reserved.