ODAIKO (SPRING 2022: Open to Continuing Students Only) Join our Email list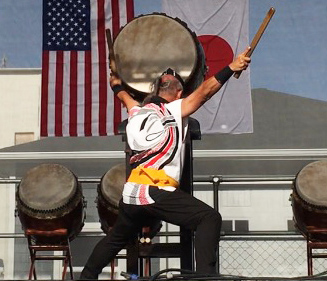 Duration:
6 wks
Date range:
May 8 to June 12
Date(s) of the week:
Sunday
Hour:
7–8 p.m.
Quarter:
Spring 2022
Prerequisite:
Age 15+; Students must also be currently enrolled in Taiko "1" class
Address:
Palo Alto HS Student Center
Price:
$30 (+ $30 Materials Fee)
Register Now
To Register, click here, or call the Adult School office at (650) 329-3752.
This class is designed for individuals with advanced knowledge and understanding of Taiko, and stamina to hit Odaiko (big Taiko) for one hour. Odaiko will help build up stamina, rhythmic competence and speed to hit Taiko.
New students must audition before registering for class. Please contact the instructor prior to registration.
All equipment – including drums & sticks – are provided.
NOTE: Odaiko is a physical activity requiring fitness and stamina. It requires peak physical conditioning and flexible joints and muscles. Individuals with physical concerns should check with their physician before enrolling in this class. All students will be required to sign a waiver of liability.
There will be a $30 materials fee payable to the instructor at the first class to cover the drum heads replacement.
(Open to Continuing students only)
Telephone: (650) 329-3752 – 50 Embarcadero Road – Palo Alto, CA 94301
Copyright © 2009-2022 Palo Alto Adult School. All rights reserved.