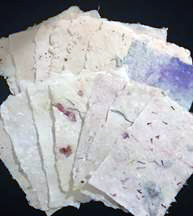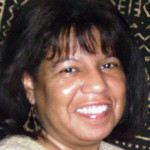 Duration:
One Session
Date range:
June 30
Date(s) of the week:
Saturday
Hour:
10–1 p.m.
Quarter:
Summer 2018
Prerequisite:
None
Address:
Palo Alto HS Rm 103
Price:
$60
Register Now
Make your own sheets of decorative paper from cotton pulp.
Students in this workshop will learn to make paper pulp from cotton linter. We will enhance the paper with a variety of inclusions to give it additional depth and texture. The worldwide use of a wooden frame called a deckle to make paper dates back thousands of years.
In this fun and informative workshop students will learn the basics of creating handmade paper using tools and techniques that can be done at home or school.
In addition to the basic technique of using a deckle and mould to make paper, you'll learn how to add inclusions like fabric scraps, plants, recycled paper and thread into your paper to give it a more interesting look. You will also learn different ways to dry your paper. Each participant will take home several sheets of handmade paper that can be used for cards, scrapbooking, printmaking, drawing, painting, bookmaking, and more!
Paper making requires lots of water-wear clothing that you won't mind getting wet. At the end of the class some papers may still be wet. If you would like to take your damp papers home please bring a cookie sheet or a flat-bottomed plastic tub at least 6 by 8 inches for transport.
There is a $10 materials fee payable to the instructor.
Telephone: (650) 329-3752 – 50 Embarcadero Road – Palo Alto, CA 94301
Copyright © 2009-2018 Palo Alto Adult School. All rights reserved.