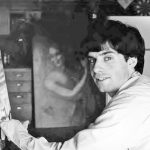 Duration:
10 wks
Date range:
January 14 to March 17
Date(s) of the week:
Tuesday
Hour:
6:30–8:30 p.m.
Quarter:
Winter 2020
Prerequisite:
Drawing knowledge highly recommended
Address:
Palo Alto HS Rm 106
Price:
$160
Register Now
Discover the magic of watercolor! Learn basic skills: color mixing, flat and graded washes, wet-into-wet, dry brush techniques combined with basic drawing concerns. Subjects include: still life, landscape, portraiture; advanced students may choose their own subjects.
Let me know your painting interests, so that I can serve you better!
| | |
| --- | --- |
| Week 1 | Introductions, review supply list, paint a value scale. Homework: paint a color wheel. |
| Week 2-3 | Review color wheels. Sketch out floral still life design. Paint a floral still life image with complimentary color pallet. |
| Week 4-5 | Bring a detailed object from home to paint. Paint your own still life using a full color pallet. |
| Week 6-7 | Pen and watercolor landscape painting (from a photo). |
| Week 8-9 | Paint a monochromatic self-portrait using a photo of yourself. |
| Week 10 | Potluck and artist critique of students' paintings created during the class, PowerPoint presentation of teacher's art. |
Recommended art store: University Art, 2550 El Camino Real, Redwood City, (650)328-3500
Store Row number;
Color of Row number (Blk=black, C=colored, E=endcap), back=back of store)
5 Blk
white ceramic pallet (or dish)
(optional)
cheap 6-well pallet to hold extra squeezed paint (if you use tube colors)
5 Blk
1/4″ wide round watercolor brush or water brush pen
5 Blk
1/8″ wide round watercolor brush or water brush pen
5 Blk
1/2" wide flat synthetic watercolor brush (optional)
Home
3Large plastic container to hold water (50 oz. or more)
Home
Paper towels
9-10c
student grade (or better) watercolor paint: black, yellow ocher, burnt sienna, French ultra-marine blue, alizarine crimson, cadmium yellow, cadmium red
Watercolor paper (cold press): full sheet of 400lb (cut in 4ths), 140 lb. pad or block approximately 11" x 14".
Watercolor board (16" x 20" x ½"(thick) or larger)—capable of being stapled (not needed if you paint on a watercolor block).
3 Blk
2H, HB graphite pencils
3 Blk
white vinyl eraser
5 Blk
6" x 8" to 9" x 12" drawing pad
Back
portfolio to store art (optional)
Window (top drawer)
1 sheet glassine paper to separate paintings in portfolio (optional)
Spray bottle (optional)


By Robert Schick
Click images below to enlarge.
| | | |
| --- | --- | --- |
| Old Shoes (graphite) | Tree with Clouds (pen) | MV Heritage Park Illustration (watercolor) |
Telephone: (650) 329-3752 – 50 Embarcadero Road – Palo Alto, CA 94301
Copyright © 2009-2019 Palo Alto Adult School. All rights reserved.