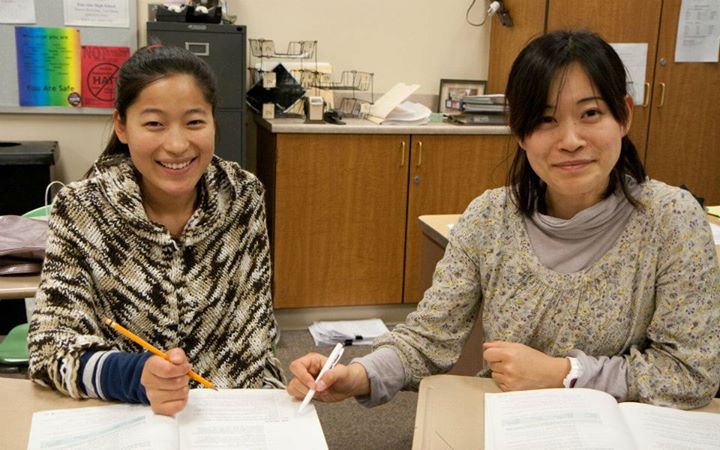 Date range: January 11 to March 19
(No class: January 18, February 12, and February 15 .)
Quarter: Winter 2021
Textbook: Required textbooks can be purchased in the Adult School office. Visitor appointment (650-329-3752) and mask-wearing is required for any office visit.
Address: LIVE ONLINE (via ZOOM)
Price: No Fee *
Winter 2021 Term Dates
January 11 to March 19, 2021 (No classes January 18, February 12, and February 15, 2021)
***ALL WINTER 2021 CLASSES WILL BE ONLINE VIA ZOOM***
The Palo Alto Adult School ESL program offers many classes to help you meet your English learning goals.
The in-person registration is at the Palo Alto High School campus.
Students may also register online.
The in-person placement tests (classroom and parking lot) are all at Greendell.
Students who are not registered will not be allowed to take the placement test.
Registrations will not be taken over the phone.
Register for testing early. Spaces are limited!
**Students who are not registered to take the placement test will not be able to take the test and receive a class assignment.**
If you have questions, please contact the Adult School:
Monday-Thursday, 8 a.m.-2 p.m. at (650) 494-2326 or send email to adultschool@pausd.org.
Enrollment Policies
You must be able to attend the full 10 weeks for the winter 2021 session.
You must live within driving distance of the Adult School.
You will be required to buy a textbook for the class.
ESL PLACEMENT TEST AND REGISTRATION
OR
Register for your placement test in-person at the Palo Alto Adult School main office at
50 Embarcadero Road, Tower Building–Room #8, Palo Alto 94301 on one of the following dates:

Tuesday December 8, 2020 4–8 p.m.
Thursday December 10, 2020 4–8 p.m.
Tuesday December 15, 2020 4–8 p.m.
Thursday December 17, 2020 4–8 p.m.
Tuesday January 5, 2021 4–8 p.m.
After you register for the placement test (online or in-person), you will select a testing date and time. Due to Covid-19, ESL placement testing will be conducted in small socially distanced, in-person groups of 6 students in the classroom, or in the student's car in the parking lot on selected dates in December and early January.
After you have registered for your placement test, you will be sent a Testing Date Confirmation for the classroom or parking lot test you have chosen.
***NEW ESL STUDENT ORIENTATION***. Learn more about our ESL programs.
Please click here for an online PowerPoint Presentation offering valuable information!
*********************************************************************************************************************
Si Ud. es hispanohablante y necesita ayuda para inscribirse en una clase de ESL, comuníquese
con el Sr. Anthony Moss al 650-833-4272. Déjele un mensaje con su nombre y número de teléfono
y él le devolverá la llamada para ayudarle con el registro.
*********************************************************************************************************************
WINTER 2021 SESSION ESL CLASSES * — LIVE ONLINE
DATES: January 11–March 19, 2021 (No classes January 18, February 12, and February 15)
MORNING CLASSES:
9 a.m.–12 noon / Monday–Thursday / Literacy through advanced low levels
AFTERNOON CLASSES:
1–3 p.m / Monday and Wednesday / Pre-literacy
12:30–3:30 p.m / Monday-Thursday / Advanced Low Level
EVENING CLASSES:
6:30–9:30 p.m. / Monday and Wednesday / Literacy through advanced low levels
ADVANCED LEVEL and ADDITIONAL SKILL-SPECIFIC CLASSES:
See English Enrichment classes.
* Pre-literacy *
Do you know someone who needs to learn to read?
Do you know anyone who cannot read and write in their first language and/or English?
Please call (650) 494-2326 for information on our Introduction to Literacy program.
¿Conoce a alguien quien quiere aprender a leer en inglés?
Por favor llame a (650) 494-2326 para más información.