Matthew Dodder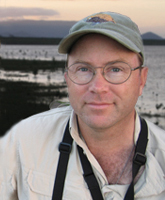 Contact Email: Website:
www.birdguy.net
Matthew Dodder, Palo Alto Adult School's Intermediate/Advanced Birding instructor since 1999, got his start as a birder at age 14 when he sprinkled birdseed on the snow after a heavy snowstorm and identified his very first Northern Cardinal. He has traveled around the world birding but says that his some of his most enjoyable birding experiences have been right here in the Bay Area. Matthew has been recognized for his work by both the Santa Clara Valley Audubon Society and the San Francisco Bay Bird Observatory. He sits on the Board of Directors of Audubon.
Students find Matthew's class exciting because it tackles not only subtle identification challenges but also topics such as the evolution of migration, recent genetic research, habitat conservation, and the affects of climate change on birds. He says, "I love teaching this class! The advanced level means I am constantly studying the most recent developments in the bird world and presenting them to my students, each of whom share my passion for birds." Most of his students return year after year, and some have been with him from his very first year at PAAS. Visit his website at www.birdguy.net.
Telephone: (650) 329-3752 – 50 Embarcadero Road – Palo Alto, CA 94301
Copyright © 2009-2019 Palo Alto Adult School. All rights reserved.