Thanh Kosen Nguyen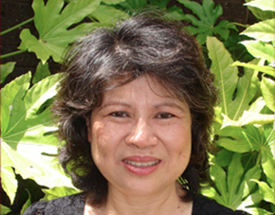 Contact Email:
Thanh "Kosen 紅泉" Nguyen was introduced to Ikebana at an early age in Vietnam but only had the opportunity to study this art after she came to the USA. She was born in Vietnam into a family of 12 children. Twice her family left everything behind to escape to South Vietnam and later to America. She left Vietnam after the fall of Saigon in 1975 and after settling here she worked during the day to raise two daughters and went to school at night. She graduated from San Jose State University in Marketing and Engineering and worked for 25 years in the hi tech industry. After retirement she turned her energy to teaching Ikebana in Palo Alto, Menlo Park and to directing a senior program in Palo Alto.
Thanh has studied Wafukai Ikebana with Fusako Hoyrup for over 20 years. She received her teaching degree in 1997 and the Sanyo degree in 2004. She serves on the Board of Directors of Ikebana International, San Francisco Bay Area Chapter. She also is a member of Wafu Society and the Ikebana Teachers Federation. She has demonstrated and exhibited her work at many flower shows in the Bay Area and yearly at her own show with her students in Palo Alto. In addition to her accomplishments in Ikebana, Thanh plays the Chinese harp, paints, and is a gourmet cook who gives cooking demonstrations.
Telephone: (650) 329-3752 – 50 Embarcadero Road – Palo Alto, CA 94301
Copyright © 2009-2019 Palo Alto Adult School. All rights reserved.