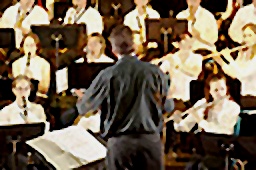 Duration: 9 wks
Date range: March 21 to June 6
(No class: April 11 and May 30.)
Date(s) of the week: Monday
Hour: 7:30–10 p.m.
Quarter: Spring 2022
Address: Palo Alto HS Rm 109
Price: $60
Experience the thrill of performance in this fully instrumental band for experienced players of wind and mallet-rhythm percussion instruments. Enjoy playing traditional, popular, and classical music.
Percussionists and tubists are especially needed!
NOTE: Before attending the first band practice, applicants must email the band instructor, Ted Henderson, at mrhenderson1962@gmail.com or call him at (408) 910-1830.
A concert will be given at the end of the quarter, on Sunday, June 12, 2022, at 3 p.m. in the Performing Arts Center at Palo Alto High School, 50 Embarcadero Road, Palo Alto. Admission is Free.
Telephone: (650) 329-3752 – 50 Embarcadero Road – Palo Alto, CA 94301
Copyright © 2009-2022 Palo Alto Adult School. All rights reserved.