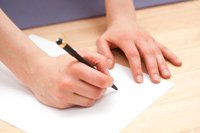 Instructor:
Adult School Staff
Duration:
10 wks
Date range:
March 31 to June 9
(
No class:
April 7.)
Date(s) of the week:
Friday
Hour:
9:30 a.m.–12 Noon
Quarter:
Spring 2017
Prerequisite:
Recommended for students who are at the high intermediate to advanced level
Textbook:
Writing to Communicate Book 2 (available for purchase in the Adult School office)
Address:
Greendell Rm P9
Price:
No Fee*
No Longer Available
In this class you will learn how to plan, develop, and edit a five-paragraph essay with an introduction, thesis statement, body paragraphs, and conclusion.
This class will prepare you for business and academic writing.
Telephone: (650) 329-3752 – 50 Embarcadero Road – Palo Alto, CA 94301
Copyright © 2009-2017 Palo Alto Adult School. All rights reserved.