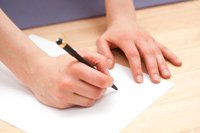 FUNDAMENTALS OF WRITING III—PARAGRAPHS TO ESSAYS *
New students must take a required in-person English test
for all Fundamentals of Writing classes.
The teacher will schedule an in-person CASAS test
with students for this state-supported class.
For more information, please call (650) 494-2326.
Learn how to plan, develop, and edit a five-paragraph essay with an introduction, thesis statement, body paragraphs, and conclusion. This class will prepare you for business and academic writing.
Instructor:
Adult School Staff
Prerequisite: For students who are at the advanced level
Textbook: Required textbook can be purchased in the Adult School office