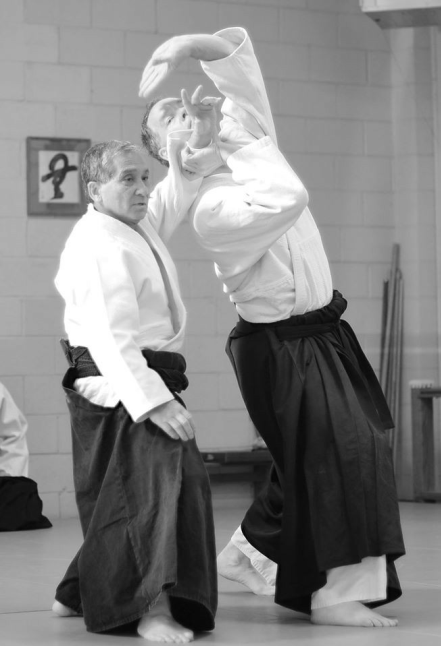 Duration:
10 wks
Date range:
May 19 to July 25
(
No class:
July 4.)
Date(s) of the week:
Tuesday AND Thursday (6:30–8 p.m.) --AND-- Saturday (10–11 a.m.)
Quarter:
Summer 2020
Prerequisite:
None
Address:
ONLINE CLASS
Price:
$179
Register Now
During the current Covid-19 quarantine, this class, and many of our classes are being held ONLINE.
Welcome to Aikido! The Art of Peace—a dynamic art based on harmony. Enjoy noncompetitive training in a supportive community offered by 7th degree black belt Shihan Hideki Shiohira and his senior students. The Japanese martial art of Aikido is a comprehensive system of throwing, joint locking, striking and pinning techniques.
The three characters (or kanji) representing aikido are translated as follows:
Ai – Means harmony
Ki – Means energy or spirit, either your own, or the world's collective energy
Do – Means the way or the approach to training that includes learning the physical movements as well as developing your whole self.
Thus, Aikido can be defined as the way of learning to harmonize with the environment we live in. In the self-defense context it means not fighting with an opponent or resisting an attack. This is what sets Aikido apart from other martial arts and self-defense systems. The concept of accepting an attack and dealing with it without fighting is unique. It also is counter to our very basic "fight or flight" response. Thus, a large part of deeper Aikido training is to learn to be calm and relaxed and to be aware and alert to what is happening around you. The other aspect of training is to learn the basic physical techniques and movements to respond to any kind of attack.
Telephone: (650) 329-3752 – 50 Embarcadero Road – Palo Alto, CA 94301
Copyright © 2009-2020 Palo Alto Adult School. All rights reserved.