Duration:
One Session
Date range:
October 6
Date(s) of the week:
Thursday
Hour:
6:30–8:30 p.m.
Quarter:
Fall 2022
Prerequisite:
None
Address:
Palo Alto HS MAC
Price:
$30
Register Now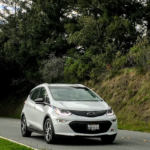 Are you considering acquiring an electric vehicle (EV) and want real information versus a sales pitch? Come hear from seasoned EV experts.
Get questions answered:
difference between all-electric and plug-in hybrid EVs
EV charging
range concerns
buying vs. leasing
new vs. used
environmental, economic, personal benefits of EVs
and more!
With the effects of climate change evident around us, including massive fires here, flooding elsewhere, and transportation contributing the largest share to our greenhouse gas emissions (according to California Air Resources Board), transitioning to electric vehicles is one of the highest impact actions we can take to make a difference. And it's easier than you think. Electric cars are also fun to drive, and due to very low maintenance and fuel cost, as well as incentives, will save you money, time, and stress, as well as improve air quality.
For sure, we strongly encourage more biking, walking, transit, or a combination instead of constant gas-car use. But if you need to drive a car— leasing or purchasing an EV is a significant step in reducing climate disruption, with all its difficult health and other consequences. If not ready to give up your gas car, we found some like to keep that car for a period while learning to incorporate an EV. Wherever you are in your contemplation of making a change, come join this fun seminar. The class is also helpful for those who recently acquired an EV and would like to learn more about it.
This class is a perfect companion to the Centennial EV expo on 9/11/22, for those who explore EVs there. However, neither offering is a prerequisite for the other.
(An hour before class, we may have a few EVs on display in a nearby parking area; check with PAAS to confirm if available. This tried-and-true class furthers EV awareness to be sparked by PAAS EV expo on 9/11/22.)
We provide the information you need to make switching to an EV an awesome experience!