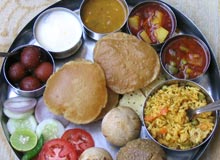 Instructor:
Ramesh and Bharati Joshi
Duration:
One Session
Date range:
October 30
Date(s) of the week:
Wednesday
Hour:
6:30–9 p.m.
Quarter:
Fall 2019
Prerequisite:
None
Address:
Palo Alto HS Rm 103
Price:
$60
Register Now
The traditional food of India has been widely appreciated for its fabulous use of herbs, spices, pulses, and legumes. The Joshis will teach you how to prepare aromatic, mild, low fat and nutritious Indian cuisine by demonstrating their techniques.
You will learn to cook the following delicious dishes:
Chicken Curry
Vegetable Pullao (rice)
Naan
Yellow Dal
Aloo Gobi
Chole (spicy garbanzo beans)
Carrot Halwa
Demonstration only.
Be prepared to eat an array of several dishes!
All supplies are included in the fee.
Taste and enjoy!
Bring a container for leftovers.
Ramesh and Bharati Joshi have taught Indian Cooking for many years in the Bay Area.
Telephone: (650) 329-3752 – 50 Embarcadero Road – Palo Alto, CA 94301
Copyright © 2009-2019 Palo Alto Adult School. All rights reserved.