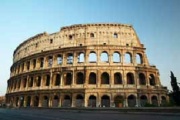 ITALIAN BOOK CLUB: ADVANCED READING AND CONVERSATION
Do not miss this opportunity to challenge yourself and increase your Italian vocabulary and culture while reading and conversing completely in Italian.
You will read two short novels by Michela Murgia:
You can buy your books (paper or ebook) online.
The selected books contain complex grammatical structures that enhance your ability to incorporate new idioms and vocabulary in different contexts.
You will be asked to read about 30-35 pages per week and actively participate in the virtual discussion. Please order your books as soon as possible and contact the teacher by email to know how to get prepared for the first class. Conversation about the first chapters will start on the first meeting and then you will receive a detailed reading program for the rest of the course. Limit 14 students.
Class will be held online via Zoom. After you register, you will receive a link to login to the class. If you have any questions, please call the Adult School office at (650) 329-3752.
Prerequisite: Advanced Italian skills
Textbook: (1) Accabadora & (2) L'incontro - both books by Michela Murgia can be purchased online (paper or ebook)