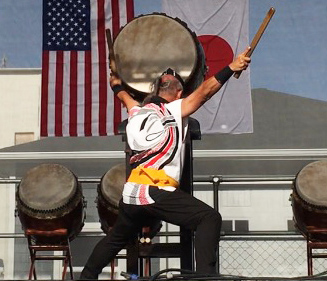 ODAIKO
(For continuing students only) This class is designed for individuals with stamina to hit Odaiko (big Taiko) for one hour. Odaiko will help build up stamina, rhythmic competence, and speed to hit Taiko. New students must audition before registering for class. Please contact the instructor prior to registration.  A prerequisite for participating in this class is that the participants must be currently enrolled in Taiko I class. This class is open for continuing students only. All equipment—including drums and sticks—are provided. There will be a materials fee payable to the instructor at the first class to cover the drumheads replacement.
Prerequisite: Age 15+; Students must be currently enrolled in Taiko I class
MORE INFO
Odaiko is a physical activity requiring fitness and stamina. It requires peak physical conditioning and flexible joints and muscles. Individuals with physical concerns should check with their physician before enrolling in this class. All students will be required to sign a waiver of liability.