WOODWORKING 2 PROJECT: Hanukkah Menorah (Fall 2022) Join our Email list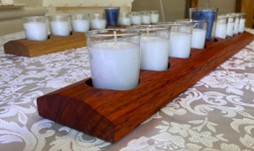 Duration: One Session
Date range: December 3
Date(s) of the week: Saturday
Hour: 9 a.m.–5 p.m. (2-hour lunch break)
Quarter: Fall 2022
Prerequisite: Woodworking 1
Address: Palo Alto High School Woodshop
Price: $55
To register for this class, please call the Adult School office at (650) 329-3752
Build a beautiful Hanukkah Menorah from wood for the holiday season! A menorah (a nine-branched candelabrum) is a wonderful holiday gift and provides a great learning opportunity for you to learn how to use the jointer to taper and to bevel.
If you do not celebrate Hanukkah, no problem! This is still a great holiday gift.
This is a "project" class; it does not qualify as a prerequisite for Woodworking 3. You must have completed Woodworking 1 to enroll in this class.
There will be a materials fee of $20 payable to the instructor to cover the cost of materials.
To check out photos from last year's class, please click here.
Telephone: (650) 329-3752 – 50 Embarcadero Road – Palo Alto, CA 94301
Copyright © 2009-2022 Palo Alto Adult School. All rights reserved.