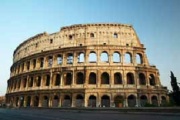 ITALIAN: INTERMEDIATE VI
This Italian language class for high intermediate students is designed to review, reinforce, and expand their grammar and communication skills while also providing an entertaining experience. The class is taught in Italian by an experienced native Italian speaker. Emphasis is on conversation and active in-class participation. New students are welcome. All students are required to have their video on during class. Vi aspetto!
Class will be held online via Zoom. After you register, you will receive a link to login to the class. If you have any questions, please call the Adult School office at (650) 329-3752.
Prerequisite: Intermediate or equivalent
No class:
Feb 19